Bunker BBQ
Located Behind Sam's Pub & The Pro Shop! Please bring a mask when visiting!
121 Buffington Road Picatinny Arsenal 07806
+1(973)724-4630
May Close Depending on Weather
| | |
| --- | --- |
| Monday | Closed |
| Tuesday | 11:00am-2:00pm |
| Wednesday | 11:00am-2:00pm |
| Thursday | 11:00am-2:00pm |
| Friday | 11:00am-2:00pm |
| Saturday | 11:00am-2:00pm |
| Sunday | 11:00am-2:00pm |
Email Us
Programs using this location:
CYS Services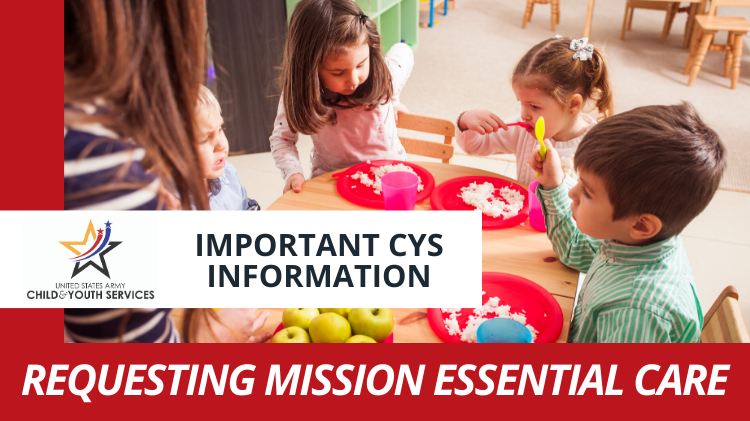 Picatinny Arsenal is operating under an increased Health Protection Condition (HPCON). To prevent the spread of COVID-19, Child & Youth Services were suspended to ensure the health and safety of our youth participants and Staff. We continue to monitor how CDC and State guidance will impact services.
In preparation to reopen facilities for full day care in our child development and school age programs, CYS must assess demand. If you are deemed mission or emergency essential by your chain of command and required to be physically present at your duty station, parents must complete and submit the below form to validate child care needs
Based on responses, CYS can evaluate capabilities to provide care to include consolidated care in another facility, hours of operations, staffing levels and updated health/sanitation procedures. Our top priority is to support the mission while also aiding to slow the spread of this new virus.
PLEASE CLICK HERE TO OPEN THE FORM
Completed document can be submitted to: usarmy.pica.usag.list.cys-cer@mail.mil
CYS Coordinator BLDG 176 Picatinny Arsenal 07806
+1 (973)724-4994
| | |
| --- | --- |
| Monday | 8:00am-4:30pm |
| Tuesday | 8:00am-4:30pm |
| Wednesday | 8:00am-4:30pm |
| Thursday | 8:00am-4:30pm |
| Friday | 8:00am-4:30pm |
| Saturday | Closed |
| Sunday | Closed |
Email Us
Programs using this location: