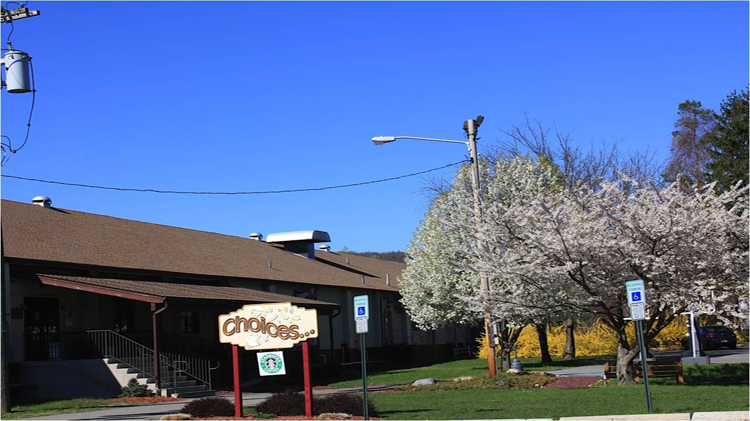 Date: Jul 17, 7 a.m. - 2 p.m.
Choices - Bldg 34 Ramsey Ave Picatinny Arsenal, New Jersey 07806 United States Google Map
Monday, July 17th, 2017
Soup- Chicken Orzo
Daily Delights- Baked Salmon
Smash Its- Pastrami Melt- With Swiss Cheese, Russian Dressing, Sauerkraut Served With House Chips
Grill- Joysey Burger- Angus Burger Topped With Taylor Ham, Fried Egg, American Cheese & Hash Brown
Deli- Ham & Cheddar- In French Baguette With Bacon, Cheddar, Lettuce, Tomato & Horseradish Dijon Mustard
Breakfast- Stuffed French Toast With Taylor Ham, Eggs & Cheese
Tuesday, July 18th
Soup- Chicken & Dumplings
Daily Delights- Chicken Caesar Station
Smash or Toss Its- Meatballs Parm Anyway. In Hero Roll or Over Pasta.
Grill- Fiesta Dogs- Jalapeno Cheese Dogs Topped With Cheese Again & Diced Onions in Potato Hot Dog Roll
Deli- Meatless Italian- Ciabatta Roll with Fresh Mozzarella, Roasted Vegetables, Mixed Greens & Balsamic Vinegar
Breakfast- Chicken Cheese Steak & Eggs
Wednesday, July 19th
Soup- Italian Ravioli
Daily Delights- Bbq'd Pulled Pork- In Ciabatta Roll With Cheddar Cheese & Served with House Chips
Toss Its- The Pasta Bar- Choice Marinara or Vodka Cream with Choice of Chicken or Sausage
Grill- Bbq'd Boneless Rib In Pretzel Roll with Frizzled Onions & Pepper Jack Cheese
Deli- Roasted Turkey Sloppy Joe- With Cole Slaw, 1,000 Island & Swiss Cheese
Breakfast- Corned Beef Hash- 2 Eggs Any Style, Hash Brown & 2 Slices of Toast
Thursday, July 20th
Soup- Chicken Tortilla
Daily Delights- Taco Station
Smash or Toss Its- Montreal Seasoned Sliced Flank Steak On Bed Of Greens or Ciabatta Sandwich With Horseradish Cheese & Horseradish Cream
Grill- The Junkyard- Hero Roll Stuffed With Jalapeno Poppers, Mozzarella Sticks, Chicken Tenders, Marinara & Mozzarella Cheese
Deli- Russian Reuben- Corned Beef In Thick Rye with Swiss Cheese, Cole Slaw & 1,000 Island
Breakfast- The Overstuffed Sandwich- Stacked Ham, bacon, 2 Hash Browns, 2 Eggs & Cheese In Ciabatta Roll
Friday, July 21st
Soup- Chefs Choice
Daily Delights- Southern Fried Chicken
Grill- A-1 Angus Steak Burger- Topped with Onion Rings, Mushrooms & Provolone In Brioche Roll
Deli- Empanadas Served with Refried Beans & Rice
Breakfast- Breakfast Quesadilla With Chicken, Salsa, Cheddar & Eggs